WRAL Tech Wire published an article in December detailing the growth of the company, 'UNC students could be building a digital media winner in Triad Studios'. Tristan Gardner and Baaqir Yusuf were highlighted throughout the piece. The article also took a look into the future growth of the company.
Most students come home from winter break rested and ready for another semester. In January of 2018, five students returned to the University of North Carolina at Chapel Hill ready to launch a company.
During its first year in business, Triad Studios took in around $82,000 in revenue. As their second year in business wraps up, Triad's Chief Marketing and Brand Officer, Baaqir Yusuf, says they've more than quadrupled that figure.
Triad Studios is a media production agency located on Franklin Street in Chapel Hill and was founded by students Baaqir Yusuf, Michael Thomas, Tristan Gardner, Daniel Pan and Justin Fouts.
The founders connected through UNC's Kenan-Flagler Business School and found that they all had a passion for storytelling, videography and business. Triad "came at the intersection of these passions," said Yusuf.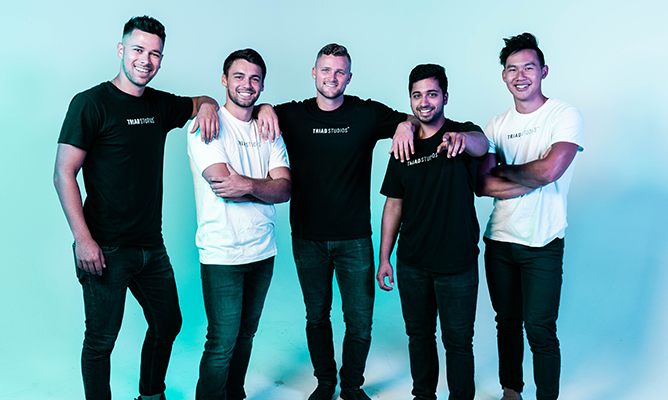 Tristan Gardner, Triad's chief executive officer, says the team was inspired by creators on YouTube producing innovative travel content.
"We wanted to create visual stories like those but we thought to make videos for businesses rather than personal journeys," said Gardner. "We wanted to connect today's digital, scroll-crazy consumers with the story of a business or organization."
The company was initially a comprehensive creative consultancy offering services from photography to web design. Since then, Triad has specialized its services as a media production agency primarily offering high-quality video production.
The group has produced content for many North Carolina companies including the Carolina Brewery, UNC School of Medicine and Bedlam Vodka, and has also worked with national brands like Red Bull.
"Our focus on relationship building with how we interact with our clients makes our work so much more meaningful," said Yusuf.
All of the founders take a roll in creative direction in addition to business duties.
"We all come from business backgrounds that give us the framework and mindset to make strategically critical business decisions," said Gardner. "We keep each other to a financially lean startup model with a high-growth vision in mind."
Triad prices at $200 per hour with the average cost of a project falling between $4,000 and $12,000. The company promises a two-week turnaround time for a final deliverable once filming is complete. However, some projects may take up to four months for completion.
FUTURE GROWTH
The company aims to open another studio in Raleigh in 2021 and has expanded its original team of five to a team of 11, all of whom are students.
While Gardner graduated this past May, the other four founders are graduating from UNC in May of 2020 and will go full-time with the company, which the founders say is growing faster and faster.
"We've seen an immense domino effect especially in the past 6 months from the work we've been doing," said Yusuf. "Our social media has grown over time, but the ways in which we acquire the most clients are from referrals and word of mouth from existing, happy clients."
While the company may have more mobility to move once the founders graduate, Gardner says being in North Carolina is a "true differentiator."
Chapel Hill will remain home-base for the company in the near future due to proximity to mentors and to maintain the strategic partnerships that Triad has formed with UNC.
"We can't see Triad's main studio moving out of the state in the next five years, although we may have satellite studios in other states," said Gardner. "We've not come across a company in [North Carolina] that does work the way we do."
While Triad is going into 2020 with positive prospects, the company hasn't been immune to the challenges facing a young business. Onboarding and training new employees, standardizing work quality and meeting uncommon client expectations have been struggles for the company.
A unique challenge has been operating a team composed entirely of full-time students.
"I'd say one of the biggest challenges the company has faced is really just balancing work-life with school pressures and having fun at the same time," said Yusuf. "It's easy to get caught up in constant work, and growth, and work, and a seemingly limitless amount of tasks, but it's equally important to take a breath and go have some fun too."
While the founders may not be students for very much longer, Gardner maintains that student hires have attributed to the success of the company.
"I've seen that some of the most valuable things students have is their ideas," said Gardner. "Our student employees and interns have provided unique suggestions and have challenged us to think in unique ways about everything from what coffee we buy for the break room to the bottlenecks we can alleviate in our post-production process."
Eventually, Triad wants to work on long-term brand strategy for socially-beneficial lifestyle companies. Short-term, the group hopes to travel internationally for client work and is looking forward to the launch of a TV show they've been working on, called 'Sip'd', in 2020.
"We want to tell impactful and innovative stories to inspire the youth in the world to make positive change in their communities through our media and video productions," said Yusuf. "Working with such amazing people and on such impactful work in just the past two years has energized us immensely towards this vision and long-term goal."